SINGAPORE, Jan 4, 2023 – (ACN Newswire via SEAPRWire.com) – ShareInvestor Pte Ltd, Singapore's largest independent platform for investor relations, market data tools and investor education, today announced its merger with Investing Note Pte. Ltd., a fast-growing and profitable community-driven platform serving young retail investors since 2014. ShareInvestor is an established brand with a 22-year track record of profitability. The deal terms for the merger values the combined Group at more than S$30 million.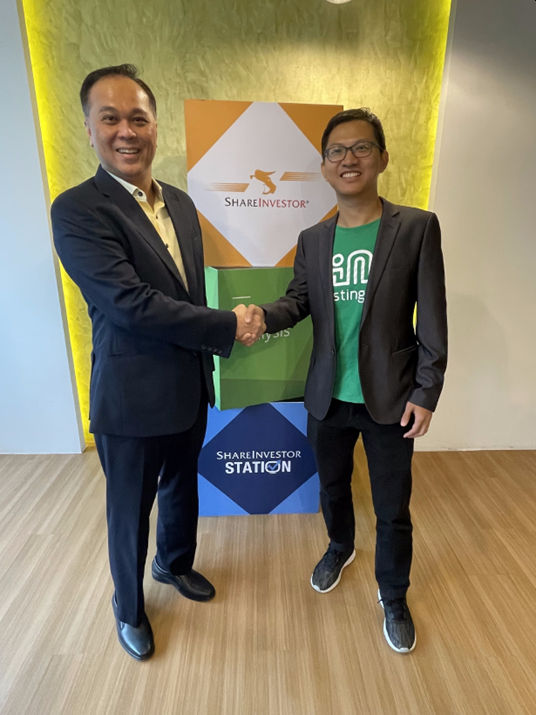 Mr Christopher Lee SI CEO [L] and Mr Shanison Lin InvestingNote CEO [R]
InvestingNote is renowned for its large following of Gen Y (Millennials) and Gen Z investors, due in no small part to its CEO, Shanison Lin Xinshan, being a Millennial himself who shares the younger generation's life aspirations, immersion in the digital world, and financial objectives.
Shanison's belief that financial literacy should be fun and profitable has powered Investing Note to be the largest social network for young retail investors in both Singapore and Malaysia. Advertisers, sponsors, key opinion leaders and brokerages have been quick to recognise the value of tying up with Investing Note to engage its subscriber base of youthful and enthusiastic investors.
ShareInvestor and InvestingNote have had a long and mutually fruitful association starting with Shanison joining ShareInvestor as a software engineer after he graduated from [NUS] in 2009 with a Bachelor of Information Technology on a Ministry of Education (MOE) scholarship, until 2014 when he left to start InvestingNote. In 2015, ShareInvestor took an initial 15% stake in the startup and subsequently both ShareInvestor and two of its senior Management increased their total stake to 32%. Throughout the years, ShareInvestor's senior Management has provided strategic guidance to InvestingNote, and the synergy that the two companies enjoy has spawned many successful project collaborations.
Mr Christopher Lee, CEO, ShareInvestor Group said: "The merger with InvestingNote is a natural progression for ShareInvestor given our long and synergistic relationship. It makes us even more attractive as a one-stop platform for advertisers, sponsors, key opinion leaders, brokerages and other financial intermediaries to forge win-win business partnerships with us. The merger also brings on board new talents and technologies and positions ShareInvestor as a future-ready financial intermediary for both traditional and digital assets."
Mr Shanison Lin Xinshan, Founder of InvestingNote, said: "This is a pivotal moment for us as we mark the beginning of the next phase of growth. ShareInvestor has always been our shareholder and close partner since the early days of InvestingNote. I am super excited about starting this new journey together!"
Commenting on the merger, Mr Chan Kum Kong, Head of Research and FinLit, Singapore Exchange (SGX Group) said, "With the rise of a younger generation of tech-savvy investors, there is a need for high quality information and innovative solutions for online communities to hone their investment skills. The merger between ShareInvestor and InvestingNote will combine talents and capabilities of both platforms and broaden their reach to investors in the region. We look forward to the merged entity bringing added vibrancy to Singapore's retail investing landscape."
Mr Greg Baker, CEO of TD Ameritrade Singapore, said, "Knowledge is an investor's best asset, and young investors know this. They place a high value on credible insights that can help them make smarter investment choices, in their pursuit of financial well-being. We have worked with ShareInvestor for over a decade and look forward to furthering our collaboration with the enlarged entity to make investor education readily accessible to all."
Mr Gavin Chia, Managing Director, Moomoo Financial Singapore Pte. Ltd. said, "We have a symbiotic relationship with ShareInvestor and InvestingNote. In today's increasingly complex financial markets, investor education is of utmost importance for informed decision making. The ShareInvestor Group's services and its footprint in the Southeast Asia region will serve us well as we venture into these markets."
Mr Christopher Lee concluded: "The Group's enhanced talent and technology resources, together with its growing footprint in Singapore, Malaysia, Indonesia and Thailand, give us confidence that we can be the leading regional financial intermediary, riding on the promising economic outlook for the ASEAN markets."
The merged Group has set its sights for an initial public offering (IPO) on the Singapore Exchange or another reputable stock exchange within the next few years.
To know more about ShareInvestor and Investing Note, please visit https://www.shareinvestorholdings.com/ and https://www.investingnote.com/
For more information, please contact:
Mr Wayne Koo
Mobile: +65 9338-8166
Office: +65 6958-8008 / 6958-8005 / 6958-8006
Email: query@waterbrooks.com.sg / wayne.koo@waterbrooks.com.sg
About ShareInvestor (www.shareinvestorholdings.com)
A leading regional media and technology company, ShareInvestor Pte Ltd (SI) was founded in 1999 to empower investors to make informed investment decisions. SI focuses on providing investor relations, market data and investor education services, and operates the largest investor relations network in the region.
SI Group has over 130 employees in four countries (Singapore, Malaysia, Thailand and Indonesia). It has also made strategic investments in investor relations/public relations firm, Waterbrooks Consultants Pte Ltd (www.waterbrooks.com.sg), and Singapore's leading social media platform for investors, Investing Note Pte Ltd (www.investingnote.com).
SI (www.shareinvestor.com) provides online market data for multiple markets across its online platform tools ShareInvestor Station(TM), ShareInvestor WebPro(TM) and ShareInvestor Mobile. Its other products include Investor-One (www.investor-one.com), a website on investor education, market news, corporate developments, and data analytics; as well as Inve$t, the e-magazine published weekly in Singapore and Malaysia.
SI organises financial investment seminars and conferences for investors. Its annual large-scale events INVEST Fair(TM) (www.investfair.com.sg) in Singapore and Malaysia draws thousands of participants.
About InvestingNote (www.investingnote.com)
Investing Note is the largest and most interactive platform for investments in Singapore and Malaysia. It is a community-driven platform designed specifically to help investors and traders to share ideas on stocks, personal finance, news and insights through social networking and a variety of useful investment tools. Previously, the company (Investing Note Pte Ltd) has received funding support from Infocomm Media Development Authority (IMDA) and Singapore Press Holdings (SPH).
Copyright 2023 ACN Newswire. All rights reserved. (via SEAPRWire)